Page-2 of
Mahabharata Current Affairs, GK & News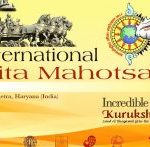 The International Gita Festival 2018 will be organised in Kurukshetra in Haryana from December 7 to 23, 2018. This year it is third year of this mega cultural event, where Mauritius is partner country and Gujarat is the partner state. Gita festival will also be organised in Mauritius next February. The objective behind this event ..
Month: Current Affairs - November, 2018
Category: Art & Culture Current Affairs
Topics: Arjuna • Art and Culture • Bhagavad Gita • Haryana • Hindu texts • Hinduism • International Gita Festival 2018 • Krishna • Kurukshetra • Mahabharata • Paksha • Puranic chronology • religion • Vaishnavism • Yoga
Dr. Teejan Bai, the folk artist from Chhattisgarh, has won the 2018 Fukuoka Arts and Culture Prize, one of the top honours of Japan. It was the first time she had been formally recognised abroad and she was flabbergasted that anyone in Japan had heard of her or her art: Pandavani. Dr. Teejan is a ..
Topics: Chhattisgarh • Culture of Chhattisgarh • Fukuoka • India • Mahabharata • Music of Chhattisgarh • Pandavani • Performing arts • Punaram Nishad • States and union territories of India • Teejan Bai
The 2017 International Gita Mahotsav will be inaugurated by President of India Ram Nath Kovind in Kurukshetra, Haryana on November 25, 2017. The President will also participate in Gita Yajna and Gita Poojan ceremonies at Brahma Sarovar. He will also lay the foundation stone of the Gita Research Centre at Gita Gyan Sansthanam. The mahotsav, ..
Topics: Bhagavad Gita • Brahma Sarovar • Hindu pilgrimage sites in India • Hinduism • Kurukshetra • Mahabharata • Ram Nath Kovind • States and union territories of India • Swami Gyananand • Tourism in Haryana • Uttar Pradesh • Vaishnavism
1. Haryana was known with which among the following terms during the Mahabharata age? [A]Haritdesha [B]Haritpradesha [C]Bahudhhanyaka [D]Haritdhanyaka Bahudhhanyaka Haryana was known as Bahudhannyaka or the land of "plentiful grains' during the Mahabharata age. Show Answer 2. The 1200 MW Rajiv Gandhi Thermal Power Project is located in which among the following districts of Haryana? ..
Category: GK Today's Quiz Archive
Topics: Captain Abhimanyu • Haryana • India • Krishna in the Mahabharata • Mahabharata • Tourism in Haryana