Korea Current Affairs, GK & News
The Government of India recently imposed anti-dumping duty on the steel imported from China, South Korea and Vietnam. Highlights The duty has been imposed on steel products that are imported from these countries below its associated normal value. This is causing the dumping and leads to unfair trade in India. The issue was found by ..
Month: Current Affairs - June, 2020
Category: International Current Affairs
Topics: Anti-dumping duty • China • Duty • import duty • Indian steel • Korea • Steel • Vietnam
The March first movement was the earliest Korean resistance against the Japanese rule between 1910 and 1945. The name refers to the events that occurred on March 1, 1919 and hence the name. It was also known as San – il movement. Sometimes the movement is also referred as Man – se Demonstrations. Inspired from ..
Topics: Anti-Japanese sentiment in Korea • East Asia • First Korean Congress • Geography of Asia • Korea • Korea under Japanese rule • Korean independence movement • March 1st Movement • Paris Peace Conference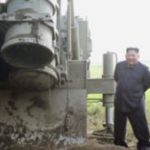 The Korean Central News Agency which is the official broadcaster of North Korea has reported that North Korean leader Kim Jong-Un oversaw the test-firing of a "super-large multiple rocket launcher". Super-Large Multiple Rocket Launcher The "super-large multiple rocket launcher" was first tested in an exercise observed by Kim Jong about two weeks ago. The present ..
Topics: Countries • Forms of government • In Singapore • Kim Jong • Kim Jong-il • Kim Jong-un • Korea • Korean Central News Agency • North Korea • Presidency of Donald Trump
The Indian tax regime is said to be under a myriad of structural challenges. India has one of the highest effective corporate tax rates and personal income tax is highly skewed against the rich who account for a lower amount of revenue realisation. Personal Income Tax Rates The budget 2019-20 has again increased the personal ..
Topics: Income Tax • Indian Tax Regime • israel • Korea • Laffer curve • OECD • personal income tax
A 4 km wide and 240 km long region which divides the Korean Peninsula into the Democratic People's Republic of Korea on the north and Republic of Korea on the south is referred to as Korean Demilitarized Zone (DMZ). The meeting between US President Donald Trump and North Korean leader Kim Jong-Un was held at DMZ. ..
Topics: Aftermath of the Korean War • Demilitarized zone • East Asia • First Republic of Korea • Government of North Korea • Korea • Korean Demilitarized Zone • Military history of Korea • Military of North Korea • North Korea • Politics by country