Interior of Earth Current Affairs, GK & News
The Deep Carbon Observatory (DCO) is a global research program to outreach carbons role on Earth. It is a community of scientists including physicists, biologists, geo – scientists and chemists working across several traditional disciplinary lines. Key highlights of DCO research It has found that there are ultra – deep diamonds at 670 km depth ..
Month: Current Affairs - October, 2019
Category: Environment Current Affairs
Topics: Carbon • Carbon cycle • Carbon dioxide • carbon dioxide emissions • crust • Deep Carbon Observatory • Earth observation project • evolution of life • Interior of Earth • Mantle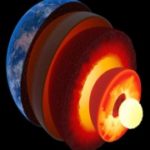 Scientists from Tohoku University in Japan have claimed that Silicon (Si) is the 'missing element' in the Earth's core. This discovery could help us to better understand how our world formed. According to them silicon likely makes up a significant proportion of Earth's core after its major constituents iron and nickel. It was missing element ..
Month: Current Affairs - January, 2017
Topics: Geography • Interior of Earth • Science and Technology • Silicon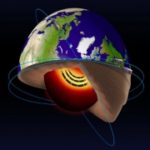 Scientists for the first time have discovered the so-called molten jet stream within the Earth's molten iron core using latest data obtained from three European satellites called Swarm. The three satellites were launched in 2013 with the goal of studying Earth's magnetic field.  The latest satellite data that helps create an sharpest 'x-ray' view of ..
Month: Current Affairs - December, 2016
Topics: Core • Geography • Interior of Earth • Magnetic Field • Molten Jet Stream • Science and Technolgy • Swarm Satellites