Energy crops Current Affairs, GK & News
The scientists have recently identified regions in the wheat genome responsible for concentration of zinc in wheat grain. They have also identified candidate genes involved in zinc concentration in wheat. The findings can potentially help in developing wheat varieties with enhanced levels of the micro-nutrient. The researchers have found 39 new molecular markers and two ..
Topics: Chemistry • Crops • Energy crops • Food and drink • Maize • Micronutrient • Physical sciences • Plant nutrition • Staple foods • Wheat • Zinc • Zinc deficiency
For the first time, the International team of scientists including 18 from India cracked the genetic code of wheat, the world's most widely cultivated crop. The information generated will help to identify genes controlling complex agronomic traits such as yield, grain quality, resistance to diseases and pests, as well as tolerance to drought, heat, water ..
Topics: Biology • Branches of biology • Crops • Energy crops • Food and drink • Genetic mapping • Genome • Genomics • Human genome • Plant breeding • Reference genome • Wheat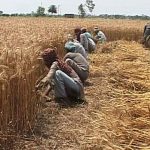 The Central government completely scrapped import duty on wheat just a few months after it lowered it to 10%. The decision was taken as there was no relaxation seen in the retail market. The duty has been waived off for an unlimited time frame as no end date has been mentioned. The step has been ..
Topics: Crops • Current Affairs – February, 2014 • Energy crops • Wheat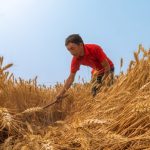 China's national grain output stands at 616 million tonnes in 2016 which is less by 5.2 million tonnes i.e. about 0.8 percent as compared to last year as per the data released by the National Bureau of Statistics (NBS). The country will import more grains as the grain planting area fell considerably by 3.15 lakh ..
Topics: Agriculture • Crops • Domesticated plants • Energy crops • Rice • Soybean • Tropical agriculture
Food Minister K V Thomas held that the state-run FCI (Food Corporation of India) has been called for to hire private godowns in order to store fresh crop and he called food-grains storage as a challenging task in view of the record yield. He held that efforts are on to make extra storage capacity for ..
Month: Current Affairs - April, 2012
Topics: Agriculture • Energy crops • Food and drink • Food Corporation of India • Food politics • Food security • Ministry of Consumer Affairs, Food and Public Distribution • Public Distribution System • Rice • Wheat