Bhakti movement Current Affairs, GK & News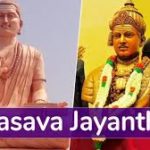 Basava Jayanthi- a religious event in Karnataka that is usually celebrated on a grand scale was held as a low-key event in light of the COVID-19 crisis. Basava Jayanthi Basava Jayanthi is a religious event observed in Karnataka- especially by the Lingayat community. The festival marks the birth anniversary of Basavanna, the founding saint of ..
Category: Art & Culture Current Affairs • Events Current Affairs • Important Days & Events Current Affairs • Persons in News Current Affairs • States Current Affairs
Topics: Anubhava Mantapa • Basavanna • Bhakti movement • Karnataka
The 129th death anniversary of the mystic bard Fakir Lalon Shah is observed in Bangladesh on October 17, 2019. The devotees of Lalon from across the country and the world have congregated at the shrine to participate in the 3-day-long programme which is being organised by the Lalon academy and the culture ministry of Bangladesh. ..
Topics: Bangla • Bangladeshi culture • Bangladeshi films • Baul • Bhakti movement • Countries • Lalon • Rabindranath Tagore • South Asia • Writers
The 3rd edition of Kabira festival 2018 will be held in Varanasi on November 16 to celebrate the spirit of 15th-century mystic poet Kabir. The annual festival conceived by the Mahindra group and Teamwork Arts, will feature a two-day programme of music, literature, talks and city explorations. The festival will reverberate with music, poetry, discussions ..
Topics: Bhakti movement • Geography of Uttar Pradesh • Hindus • Kabir • Mahindra Group • religion • Sant Mat • Sikh Bhagats • Varanasi
"Pandharichi Wari" is the most important pilgrimage of Maharashtra. It is more than 700 years old tradition in which devotees of Lord Vitthala called Varkari trace the route to Pandharpur. This year, in 2018, Wari will resume from July 6. For this holy function, thousands of devotees will trace WARI route from Dehu and Alandi, ..
Topics: Alandi • Bhakti movement • Hindu saints • Hinduism • Maharashtra • Pandharpur Wari • Sant Mat • Shayani Ekadashi • States and union territories of India • Tukaram • Varkari • Vithoba
Arabinda Muduli (56), the noted Odia Bhajan singer, musician and lyricist, has passed away in Bhubaneswar, Odisha on March 1, 2018. Having rendered over 3,000 songs, Muduli would be remembered for his hit bhajans like Kala Saante Acha Kemante and Jaga Pain Niti Mali Phula. He was a devotee of lord Jagannath and sang only ..
Topics: Akshaya Mohanty • Arabinda • Arabinda Muduli • Bhajan • Bhakti movement • Bhikari Bal • Cinema of Odisha • Culture of Odisha • Indian culture • Languages of India • Odia language • Ollywood