Page-3 of
Americas Current Affairs, GK & News
India and Guatemala have signed a pact for strengthening diplomatic cooperation through Respective Foreign Service Institutes in the educational field. The agreement was recently inked after a meeting between Vice President M Venkaiah Naidu and his Guatemala counterpart, Jafeth Cabrera Franco in Guatemala City. Beside this, both the countries agreed to support each other's candidature ..
Topics: Americas • Central America • Guatemala • Jafeth Cabrera • Northern Triangle of Central America • Republics
The World Book and Copyright Day is observed every year on April 23 to raise public awareness of books and reading and pay tribute to authors in the book industry, professionals or volunteers. The day is being organized by the United Nations Educational, Scientific and Cultural Organisation (UNESCO) to promote reading, publishing and copyright. It ..
Month: Current Affairs - April, 2018
Topics: Americas • Garcilaso de la Vega • Inca Empire • Inca Garcilaso de la Vega • Miguel de Cervantes • Reading • UNESCO • Units of time • World Book Capital • World Book Day • Writers
The Archaeological Survey of India (ASI), Ministry of Culture, Government of India, in collaboration with National Geographic Society is hosting an international conference on "Dialogue of Civilizations hosted at Delhi, Gandhinagar and Dholavira. This conference is fourth in this series of 'dialogues' initiated by National Geographic Society in 2013 with an objective to encourage scholarly ..
Topics: Americas • Ancient history • Archaeological Survey of India • ASI • Civilization • Culture • Dholavira • Dialogue of Civilizations • Guatemala • Mesoamerica • Ministry of Culture
The International Day of Remembrance of the Victims of Slavery and Transatlantic Slave Trade is observed every year on March 25 to honour and remember those who suffered and died at the hands of the brutal slavery system. The International Day also aims to raise awareness about the dangers of racism and prejudice today. The ..
Topics: Abolitionism • African slave trade • Americas • Atlantic slave trade • Continents • Early Modern period • Human rights abuses • Racism • Slavery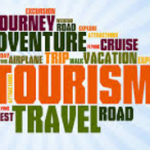 The data experts at Booking.com have found that financial and entertainment capital of India to be among the world's top trending destinations for 2017. According to the survey, Mumbai is likely to see an increase in domestic and international tourist flow. It has scaled 10 places among the destinations which are most searched, relative to ..
Topics: Americas • Booking.com • Cairns • Jijoca de Jericoacoara • Kyoto • Puerto Rico • Spanish Empire