Surat (Guided Missile Destroyer) & Udaygiri (Stealth Frigate)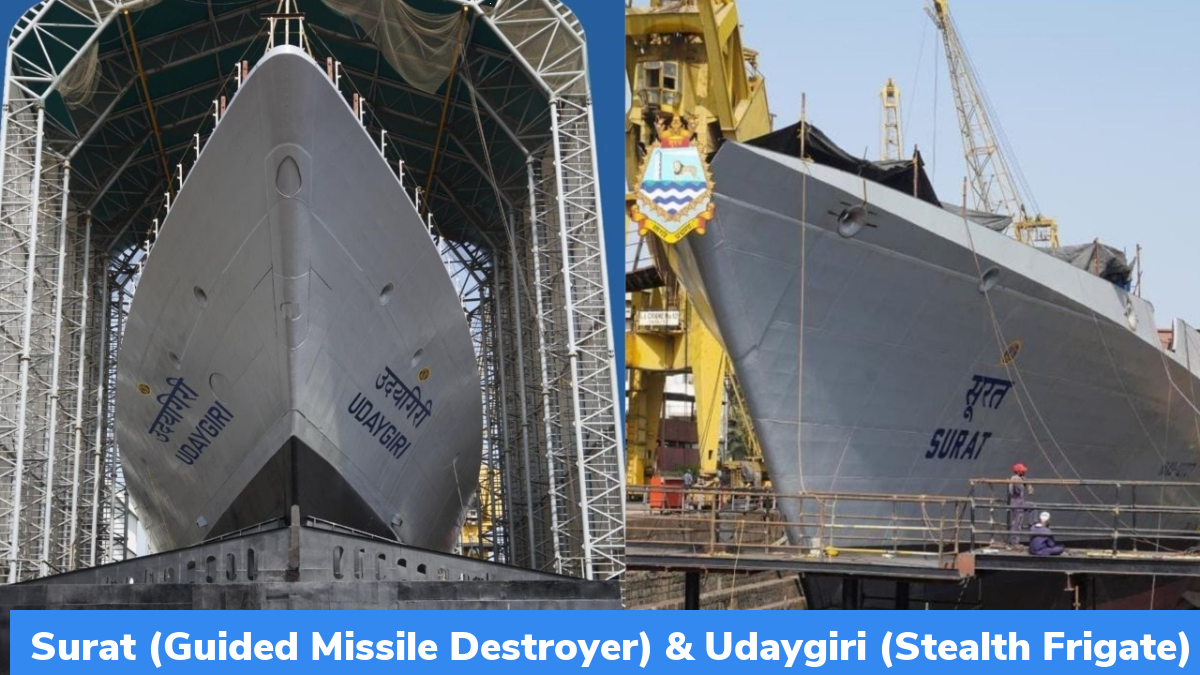 Rajnath Singh, India's Defence Minister launched the frigate INS Udaygiri and Indian Navy destroyer warship INS Surat on 17th Amy 2022 in Mumbai.
Both the ships have been launched under which programme?
INS 'Surat' is the fourth and last of the stealth destroyers that have been commissioned under the 'Project 15B' programme.
INS 'Udaygiri' has been commissioned under the 'Project 17A' frigate programme.
Which organization has designed both ships?
The Directorate of Naval Design (DND) has designed both warships and they have been built at Mazagon Dock Shipbuilders Limited (MDL), Mumbai.
What is Project 15B?
It is a programme of the Indian government under which next-generation stealth guided-missile destroyers for the Indian Navy were being built at the Mazgaon Docks Ltd, Mumbai. In 2021, the first ship under this project commissioned.
What do you know about INS Surat?
It is the fourth and last ship under Project 15B. This ship has been named after Gujarat's commercial capital Surat. Block construction methodology has been used to build this ship. It involves the construction of the hull at two different geographical locations and they have been joined together at MDL. This ship has been named 'Surat' to honour the city of Surat's rich shipbuilding as well as maritime history. The vessels that were built in Surat in the 16th and 18th centuries were famous for their longevity.
What is Project 17A?
These ships that are being commissioned under Project 17A are an improvement over the P17 Frigates and are fitted with, advanced weapons, improved stealth features, advanced platform management systems, and improved sensors. Under this programme, seven ships are being constructed with 4 of them being constructed by MDL and 3 by Garden Reach Shipbuilders & Engineers Ltd (GRSE). In 2019 and 2020, the first two ships under this project were launched respectively by MDL and GRSE.
What do you know about INS Udaygiri?
This ship has been named after a mountain range that is located in the state of Andhra Pradesh. This ship is the reincarnation of the decommissioned 'Udaygiri', the Leander Class ASW Frigate, which undertook various difficult operations from 18th February 1976 to 24th August 2007.
Month: Current Affairs - May, 2022
Category: Defence Current Affairs
Topics: Garden Reach Shipbuilders & Engineers Ltd • INS Surat • INS Udaygiri • Mazagon Dock Shipbuilders Limited • Project 15B • Project 17A
Latest E-Books