Shaheedi Jor Mela begins in Punjab on 26 December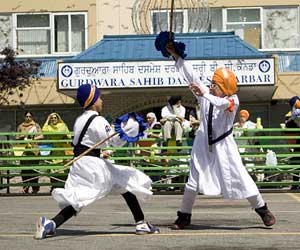 The three-day annual Shaheedi Jor Mela began at Gurduwara Fateh Garh Sahib, in Fatehgarh Sahib district of Punjab.
It is organized to pay homage to martyrdom of Zorawar Singh and Fateh Singh, youngest sons of the 10th Sikh guru Guru Gobind Singh who were entombed alive in Fatehgarh Sahib district.
Lakhs of devotees paid their obeisance at the historic gurdwaras to mark the 310th martyrdom day.
Facts about Shaheedi Jor Mela
Background: Zorawar Singh and Fateh Singh were imprisoned by Wazir Khan, a Mughal governor of Sirhind (Now it is Fatehgarh Sahib district). After their imprisonment they were forced to change their religion by the governor. But they refused and stuck their faith in Sikhism. They were entombed alive and killed on 26 December 1705 at Sirhind.
Mela
Gurudwara Fatehgarh Sahib marks the site of their live entombment. The first day of the Mela is observed purely in religious spirits. In the three day Jor Mela lakhs of devotes pay their obeisance at Gurdwara Fatehgarh Sahib and Gurdwara Jyoti Swarup .
Events: Nearby villagers organize langar for the devotees. The Shiromani Gurdwara Parbandhak Committee (SGPC) arranges deewan, where the Sikh preachers, ragis, dhadi jathas will present devotional songs and give the accounts of the Sikh history.
Month: Current Affairs - December, 2014
Topics: 3 day Shaheedi Jor Mela • Current Affairs - 2017 • Gurduwara Fateh Garh Sahib Punjab • Observances • Shaheedi Jor Mela- martyrdom of Zorawar Singh and Fateh Singh • Shiromani Gurdwara Parbandhak Committee (SGPC) • Wazir Khan a Mughal governor of Sirhind • youngest sons of the 10th Sikh guru Guru Gobind Singh
Latest E-Books