Infant Mortality Rate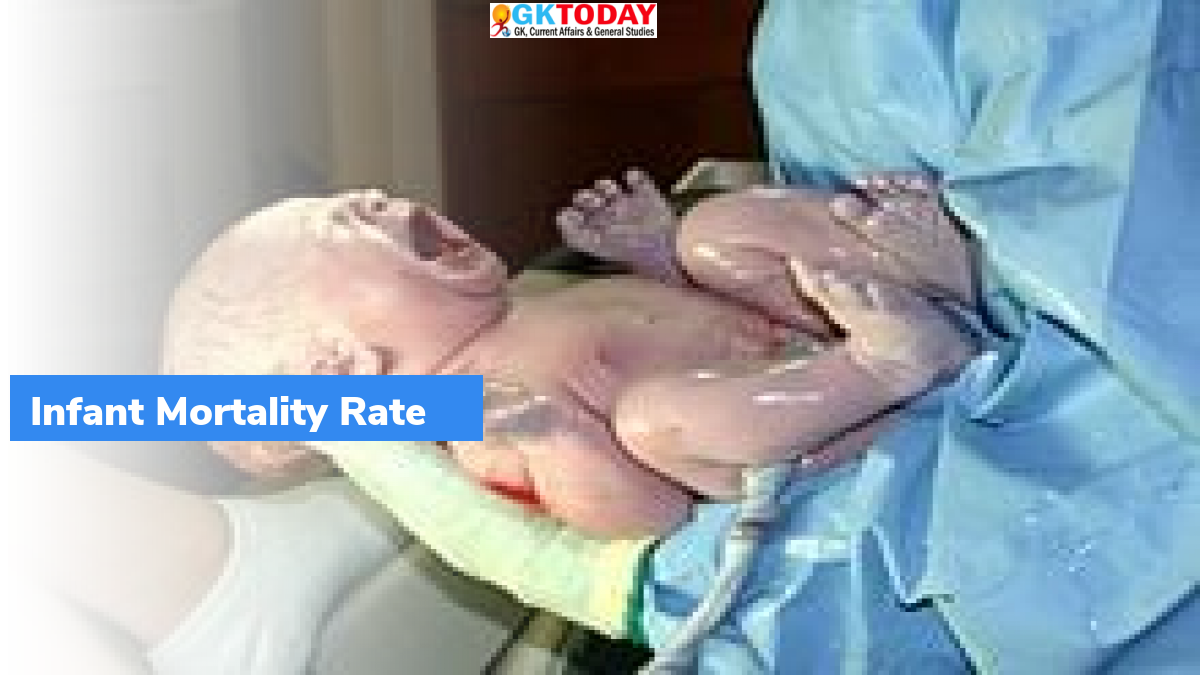 The Infant Mortality Rate or IMR is the number of deaths of children (under one year of age) per 1000 live births. On the other hand, the death rate of children under five year of age is called Child Mortality Rate.
Leading causes of IMR
The major leading cause of IMR at global level is birth defect. The other significant causes of IMR are pneumonia, asphyxia, congenital malformations, prolonged labor, fetal umbilical prolapse, malaria, diarrhea, measles and malnutrition. The most common preventable cause of IMR is smoking during pregnancy.
Classification
The different forms of IMR are perinatal mortality, neonatal mortality and post-natal mortality.  The perinatal mortality is the death of the fetus or baby between 28 weeks of gestation and the first week of birth. Gestation is the period of carrying the baby in the uterus. Neonatal mortality is death of the baby occurring within 28 days of its birth. The post neonatal mortality is the death of the baby between 29 days and one year of birth.
IMR in India
The IMR in India stands at 33 per 1000 live births. The IMR of India is poor as compared to China (8), Bangladesh (27), Sri Lanka (8) and Bhutan (26).
IMR causes in India
India is not able to reduce its IMR for the following reasons:
Premature birth: It contributes to more than 80% of newborn death in the country
Asphyxia: Asphyxia is the state of being unable to breath. In India, Asphyxia in the new born is one of the leading cause of deaths. This is mainly due to lack of health infrastructure in rural areas. Also, it occurs due to infections such as pneumonia, meningitis, sepsis.
Female literacy rates: In India, the babies born to illiterate mothers face twice the risk of early deaths as compared to those born to educated mothers.
Child marriage: Anemia in young women and inadequate focus on adolescent sanitation
Shortage of midwives and trained health workers
40% of IMR in India occurs due to poverty
Lack of basic health practices related to immunization and breast feeding
Sustainable Development Goal (SDG)
The SDG 3 aims to ensure healthy lives and promote well-being for all at all ages. It includes reduction in Infant Mortality Rate as well.
Solutions to reduce IMR
Paying good attention to the fetus and mother health during pregnancy. In order to achieve this, India has already launched Janani Suraksha Yojana. However, the scheme should be expanded aggressively in states such as Madhya Pradesh and Uttar Pradesh where the IMR is high.
To make sure the baby is delivered in hospitals and Health and Wellness Centres with basic health facilities.
The health and child services should be brought under universal health coverage
Around 80% of IMR can be reduced by providing good nutrition, providing clean water and proper breast feeding.
Topics: Infant Mortality Rate
Latest E-Books