Environment Ministry Releases 'India – Spearheading Climate Solutions'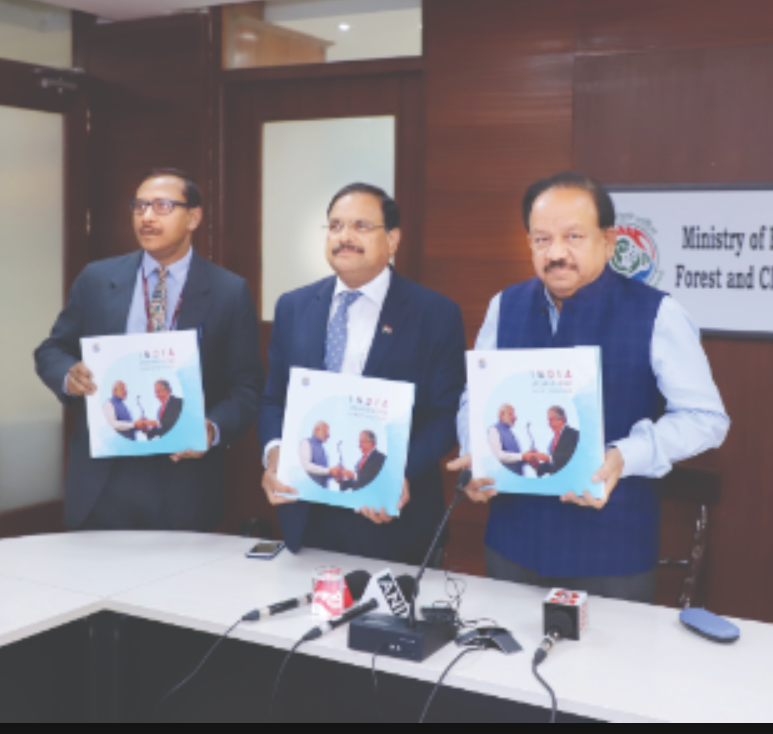 Union Minister of Environment, Forest and Climate Change has released a publication titled  "India – Spearheading Climate Solutions" on 12 February, 2019. This document mentions India's key actions taken towards combating and adapting to climate change.
India's Key Actions Towards Combating and Adapting Climate Change
India's National Action Plan on Climate Change (NAPCC) that has eight major missions on Solar, Enhanced Energy Efficiency, Sustainable Habitat, Water, Sustaining the Himalayan Ecosystem, Green India, Sustainable Agriculture and Strategic Knowledge on Climate Change.
International Solar Alliance (ISA) – It is an alliance of 121 countries, most of them sunshine countries (i.e. lying either completely or partly between the Tropic of Cancer and the Tropic of Capricorn). It was founded in 2015 at Paris and was initiated by India. Membership now has been extended to all the members of the United Nations
State Action Plan on Climate Change (SAPCC)
FAME Scheme – It stands for Faster Adoption and Manufacturing of (Hybrid &) Electric Vehicles (FAME-India) Scheme, which was launched in 2015 under the National Electric Mobility Mission Plan (NEMMP). It aims to create the infrastructure for and promote e-mobility.
Atal Mission for Rejuvenation & Urban Transformation (AMRUT) –The scheme was launched in the year 2015 and is solely aimed for Smart Cities
Pradhan Mantri Ujjwala Yojana – The scheme was launched in 2016. It aims for providing access to clean cooking fuel
UJALA scheme – It stands for Unnat Jeevan by Affordable LEDs and Appliances for All and was started in 2015. Its aim is to embrace energy efficient LED bulbs
Swachh Bharat Mission – It is a nationwide campaign from 2014 to 2019 aiming to clean up India.
National Adaptation Fund for Climate Change (NAFCC) – It was launched in 2015-16 and aims to support robust adaptation techniques to reduce adverse effects of climate change.
Other Initiatives Taken by Government
Apart from the above, Government of India has taken an ambitious goal of generating 175 GW of renewable energy by 2022. India will leapfrog from Bharat Stage -IV to Bharat Stage-VI emission norms by April 2020. India's renewable energy capacity stands at more than 74 GW today including about 25 GW from solar. Further, India submitted its Second Biennial Update Report (BUR) to UNFCCC (United Nations Framework Convention on Climate Change) in December 2018 as per the reporting obligations under the convention, which stated that India's GDP came down by 21% between 2005 & 2014. It also stated that India's climate-goal for pre-2020 is well on track.
Month: Current Affairs - February, 2019
Category: Environment Current Affairs
Topics: AMRUT • Atal Mission for Rejuvenation & Urban Transformation • Bharat Stage • FAME Scheme • International Solar Alliance • Ministry of Environment • National Action Plan on Climate Change • National Adaptation Fund for Climate Change • National Electric Mobility Mission Plan • Pradhan Mantri Ujjwala Yojana • State Action Plan on Climate Change • Swachh Bharat Mission • UJALA Scheme
Latest E-Books