Bharatiya Prakritik Krishi Padhati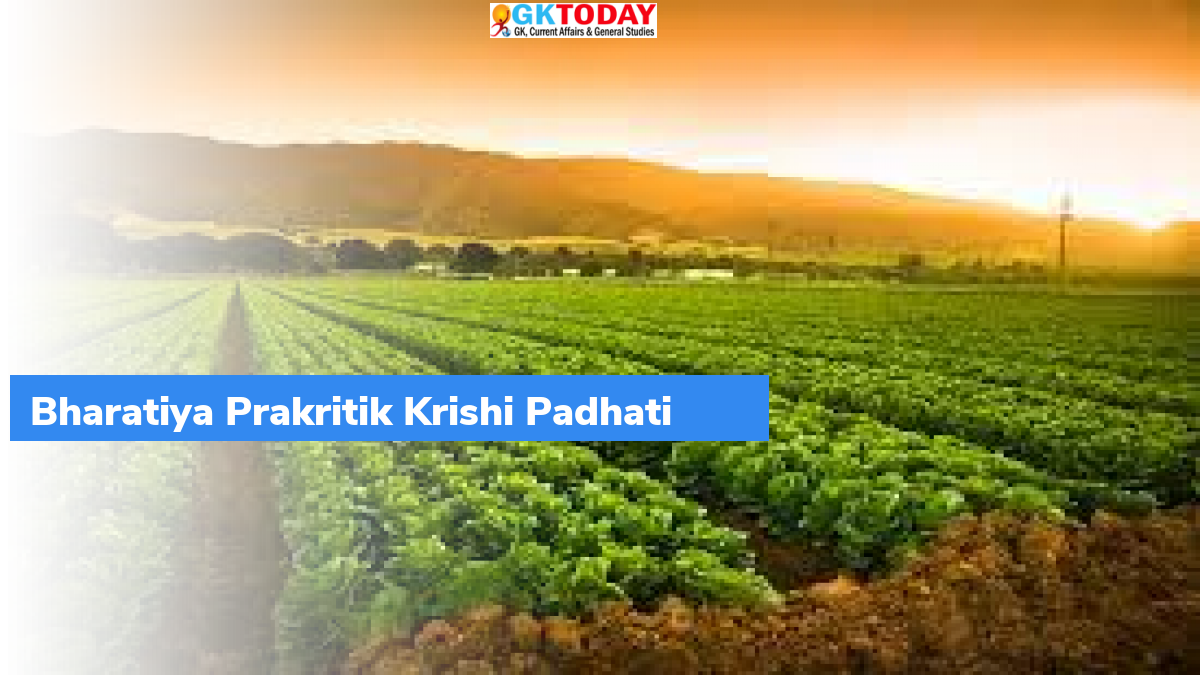 The Bharatiya Prakritik Krishi Padhati is implemented by the Ministry of Agriculture and Farmer Welfare. It aims to promote traditional indigenous practices.
What are the key features of the scheme?
The scheme promotes on – farm biomass recycling, time to time working of soil aeration and use of cow dung urine formulations.
It eliminates the use of synthetic chemicals.
The Government of India provides financial assistance of Rs 1220 per hectare under the scheme.
The scheme is similar to Paramparaghat Krishi Vikas Yojana.
What is Paramparagat Krishi Vikas Yojana?
The PKVY was launched under National Mission of Sustainable Agriculture. Just like Bharatiya Krishi Padhati, this scheme also promotes organic farming. It is implemented through cluster approach and PGS certification.
How is PKVY implemented?
Under the scheme, farmers form clusters. Each cluster is made of fifty farmers. Every cluster holds fifty acres of land. The cluster adopts the organic farming practices as listed above. The target of the scheme is to form 10,000 such clusters in three years. The scheme was launched in 2020-21.
What is the need for the schemes?
Excessive use of chemical fertilizers reduces soil fertility.
The organic farming is less expensive as compared to conventional farming.
The use of fertilizers has led soil and water pollution.
There is a need to increase the safety of food. This shall be achieved only through organic farming.
The schemes promote sustainable development and conserve ecosystem.
What are the benefits of the scheme?
The schemes promote inexpensive agriculture. This is because, here no High Yielding Variety Seeds or expensive fertilizers are used. Thus, there are no extra expenses.
The demand for organic products is huge globally, especially in urban areas. Thus, they have good export potential.
The organic products are more nutritional. They are tasty and good for health.
What are the challenges?
The scheme does not include marketing. The yield per hectare of organic products is less as compared to the conventional agricultural products.
The shelf life of organic products is less. Also, the off – season crops are limited. There are fewer limited options in organic farming.
The organic farming is labour intensive. On a positive note, it generates more employment.
Topics: Bharatiya Prakritik Krishi Padhati
Latest E-Books