Yaduveer Raj Urs crowned as Mysuru's new Maharaja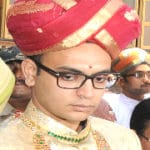 Yaduveer Raj Urs, was crowned as the new Maharaja of Mysuru, a titular and nominal head of the 600-year-old Wadiyar dynasty in southern India.
The coronation ceremony was held at the Wadiyar dynasty's Amba Vilas Palace in Mysuru. He is 23-year-old and economics graduate from the University of Massachusetts, US.
After his coronation, he was rechristened with full title name of Yaduveer Krishnadatta Chamaraja Wadiyar. He also became the custodian of more than 1,500 acres of land and palaces of Wadiyar dynasty in Karnataka.
Yaduveer Raj Urs succeeds his grand uncle Srikantadatta Narasimharaja Wadiyar who had died in December 2013. Srikantadatta was the last hereditary heir of Wadiyar dynasty and was childless. After his death, his widow Pramodadevi Wadiyar had adopted Yaduveer Raj Urs as heir of Wadiyar dynasty.
About Wadiyar dynasty
The Wadiyar dynasty was an Indian Hindu dynasty that had ruled the Kingdom of erstwhile Mysore from 1399 to 1947.
The dynasty was established in 1399 by Yaduraya Wodeyar. He had ruled Mysore till 1423 under the Vijayanagara Empire.
After Yaduraya, the kingdom was succeeded by the Wadiyar rulers which included many of the noble clans of the region including Wadiyars of Vijaya's dynasty who belonged to the Arasu Wadiyar community of Karnataka.
Jaya Chamaraja Wadiyar XI was the last ruler of the Kingdom from 1940 to 1947. This kingdom was incorporated into the territory of India in 1947 after the independence.
Later its rulership with privy purses and special privileges was abolished by 26th Constitutional Amendment Act, 1971.
Month: Current Affairs - May, 2015
Topics: Current Affairs 2016 • History • Karnataka • Persons in News
Latest E-Books