Page-5 of
Current Affairs - September, 2009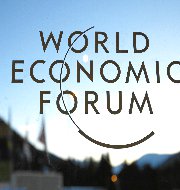 The Global Competitiveness Report is a report annually published by the World Economic Forum since 1979. This report "assesses the ability of countries to provide high levels of prosperity to their citizens. This in turn depends on how productively a country uses available resources. Therefore, the Global Competitiveness Index measures the set of institutions, policies, ..
Month: Current Affairs - September, 2009
Topics: Competition • Competitiveness Index • Current Affairs 2009 • Economy • Global Competitiveness Report • National Competitiveness Report of Armenia • World • World Economic Forum • World economy
September 7, 2009: S Ramadorai is new chairman of Tata ElxsiS Ramadorai has been appointed as the Chairman of Tata Elxsi, the product design arm of Tata Group. September 3, 2009: K Rosaiah appointed acting CM of Andhra PradeshAndhra Pradesh Finance Minister K Rosaiah will be the acting Chief Minister of Andhra Pradesh after sad ..
Month: Current Affairs - September, 2009
Topics: Bilal • Bilal Nazki • Current Affairs 2009 • High Courts of India • Judiciary of India • Orissa High Court • Subramaniam Ramadorai • Vijay Shankar Vyas
August 14, 2009: GOM (Group of Ministers ) Constituted to examine raising fuel pricesPrime Minister Manmohan Singh has recently taken a decision to constitute a GOM (group of Ministers) to look into the issue of high aviation fuel prices in India that has exacerbated the current crisis of the industry.Some Interesting facts about Indian Aviation ..
Month: Current Affairs - September, 2009
Topics: Association of Southeast Asian Nations • Current Affairs 2009 • Economy • Foreign direct investment • Foreign relations of India • Globalisation in India • Southeast Asia • Tourism in India • World economy
August 14, 2009: Stephen Schwarzman is America's Highest Paid CEOAugust 14, 2009: Voter ID cards as age proof for pensioners above 80August 14, 2009: Infosys: Most admired Indian companyAugust 17, 2009: Railways to replace electrical multiple units with IGBT technology save Rs 200 cr in fuelAugust 18, 2009: " Endeavour" is the Solar-powered racing car ..
Month: Current Affairs - September, 2009
Category: Government Schemes Current Affairs
Topics: Current Affairs 2009 • Economy • Electrical components • Endeavour • Finance • Infosys • Insulated-gate bipolar transistor • National Rural Employment Guarantee Act • Power electronics • Power semiconductor device • Semiconductor devices • Stephen A. Schwarzman • Transistor
August 13,2009: Govt thinking over raising retirement age to 62 yearsAugust 13, 2009: Group of Minsiters (GOM) to Monitor droughtAugust 13, 2009: India's Engineering exports down by 21% in JuneAugust 13, 2009: India signs free trade pact with ASEANAugust 13, 2009: Inflation falls to 3-decade low of -1.74% on August 1, 2009August 14, 2009: IMF ..
Month: Current Affairs - September, 2009
Topics: Current Affairs 2009 • Economy • International Monetary Fund • Organizations • Special drawing rights • United Nations • United Nations Development Group • United Nations Economic and Social Council