Malnutrition in India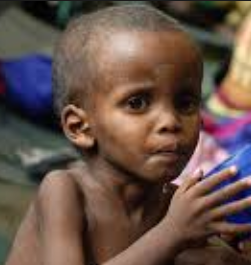 Malnutrition is one of the biggest challenges for India. Time and again various national and international surveys underline the quantum of the challenge before India. Some of the important facts about malnutrition in India are listed below:
UNICEF report notes that nearly one in three people in India have at least one form of malnutrition and this will increase to one in two by 2025 going by current trends.
According to National Family Health Survey (NFHS)-4, 2015-16, one in every five Indians (both genders) is too thin with a BMI of less than 18.5, while every fourth male and second female is anaemic.
The NFHS-4 highlighted that one in three women consume dark green leafy vegetables, chicken/meat/fish/eggs only once a week while one in two women do not consume fruits even once a week.
The NFHS report also noted that one in five women however, consume aerated drinks weekly, one in 10 women consume fried food daily. Only one in 10 children aged 6-23 months receive an adequate diet.
The Global Nutrition Report stated that India is facing a major malnutrition crisis as it holds almost a third of the world's burden for stunting.
The Global Nutrition report highlighted that 46.6 million children in India are stunted and India tops the list, followed by Nigeria (13.9 million) and Pakistan (10.7 million).
The Global Nutrition report also noted that India also accounted for 25.5 million children who are wasted, followed by Nigeria (3.4 million) and Indonesia (3.3 million).
Together with various governmental interventions, it is necessary to bring behavioural change to eradicate malnutrition from India. This necessitates educating the families about the need for nutrition.
Month: Current Affairs - February, 2019
Topics: Anemia • global nutrition report • malnutrition • National Family Health Survey • Stunting • UNICEF • Wasting
Latest E-Books