Jet Airways bans shipment of shark fins to protect declining shark population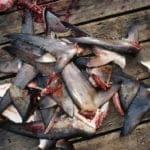 As per press release from Human Society International (HSI) India, Jet Airways Cargo has instituted a policy to ban the shipment of shark fins. Jet Airways by instituting this policy has joined group of major international carriers committed to protect declining shark populations and marine ecosystems.
Other growing league of environmentally conscious airlines are  Emirates, Philippines Airlines, Korean Airlines, Asiana Airlines, Qantas and Air New Zealand, all of whom have made a public commitment to stop carrying shark fins
Why there is need to ban the shipment of shark fins?
Sharks are top predators and important for survival and maintenance of healthy marine ecosystem.
Shark fin trade is one of the main reasons for the decline in the shark population globally.
Shark finning: It is the process of removal and retention of shark fins. This removal of fins doesn't allow shark to move effectively resulting in sinking to bottom of the ocean and die.
Shark finning has increased since 1997 largely due to the increasing demand for shark fins for shark fin soup and traditional cures, particularly in China and its territories.
This environment friendly decision of HSI along with international carriers will help to stop Shark fin trade by cutting off supply chain.
India and Shark finning
Some research reports suggests that India is the world's second-largest shark catching nation and one of the world's largest exporters of shark fins. As per trade reports and undercover investigations, the shark fins are commonly transported from India to places like Hong Kong, Dubai and China as cargo on airlines.
Month: Current Affairs - November, 2014
Topics: Current Affairs - 2017 • Enviornment • Jet Airways
Latest E-Books