ISRO places Resourcesat-2A in orbit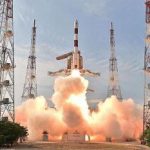 Indian Space Research Organisation has successfully launched remote sensing satellite Resourcesat-2A in the orbit. Resourcesat-2A was launched from Satish Dhawan Space Centre in Sriharikota by a Polar Satellite Launch Vehicle PSLV-C36. The 1.2 tonne satellite was launched at 10:25pm. A XL version of the rocket was used in 38th flight of PSLV.
PSLV has been successfully made 36 launches since 1994 by placing 121 satellites into orbit, 17 of which were of foreign nations. It took around 18 minutes from Sriharikota for PSLV-C36 to place the satellite in an 818 kms Polar Sun Synchronous Orbit.
Resourcesat-2A is basically aimed for resource monitoring and is a continuous mission to Resourcesat-1 and Resourcesat-2which were launched in 2003 and 2012 respectively. The satellite will provide 3-tier imaging data to users across the world. It was the first time a camera was placed on a rocket which made it possible to see the launch of the satellite and the deployment of solar panels. Resoursesat-2A carries 3 payloads similar to the ones carried by the previous Resourcesat's. The three payloads are:
LISS-4: Linear Imaging Self-Scanner which operates in 3 spectral bands in the Visible and Near Infrared Region (VNIR).
LISS-3: It also operates in 3 bands in VNIR and 1 band in SWIR (Short Wave Infrared) Band.
AWiFS: Advanced Wild Field Sensor operating in 3 VNIR bands and 1 SWIR band.
The mission life of Resourcesat-2A is five years.
Topics: HySIS • In India • Indian Remote Sensing Programme • Indian Space Research Organisation • Polar Satellite Launch Vehicle • PSLV-C3 • Resourcesat-1 • Resourcesat-2 • Resourcesat-2A • Satish Dhawan Space Centre • Spacecraft • Spaceflight
Latest E-Books