Indian Army Mountaineering Expedition to Mt Makalu claims discovery of footprints of snowman 'Yeti'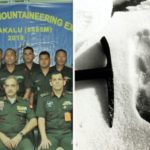 Indian Army posted photographs of "mysterious footprints" that measure about 32×15 inches, on Twitter claiming that its Mountaineering Expedition team to Mt Makalu (8485m, is 5th highest mountain in world) sighted "the mythical beast Yeti".
Yeti
It is a mythical creature who is believed to exist in Himalayan areas of India, Nepal and Tibet.
The term "Yeti" is taken from Nepali dictionary which means 'abominable snowman'. It is also known as 'Meh-The' in Tibetan folklore.
Yeti has many proposed characteristics, like according to urban legends, it is a two legged white, shaggy ape-like animal and is described to be about 10-20 feet tall. While according to locals, it resembles a race of wild, hairy men found in the "wildest and most inaccessible mountains".
Existence Proof
The debate on Yeti's existence is going on since last century.
There is no authentic evidence of its existence. Since it has never been sighted or captured, and most scientists believe that no such creature exists.
In 1921, British explorer Charles Howard-Bury claimed to have found footsteps of Yeti near Lakhpa La pass (or Lhagba La is about 7km northeast of Mount Everest in Tibet Autonomous Region) while on an expedition in Himalayas.
In 2013, the National Geographic released a documentary on 'legend of Yeti in Himalayas'. Although Yeti has already been recreated several times in popular culture, folklore and cartoons.
In 2019 debate has resurfaced again when Indian Army has claimed it discovered fresh "mysterious footprints" of Yeti during an Army expedition.
Topics: Abominable Snowman • India • Indian Army • Lakhpa La pass • Mountaineering Expedition • Mt Makalu • mysterious footprints • National Geographic • Nepal • Tibet • Yeti
Advertisement