Govt scraps Import Duty on open cell LED TV panel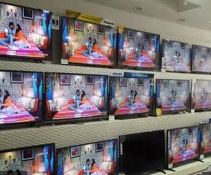 The Ministry of Finance has withdrawn the import duties on open cell LED panels used in the production of television sets. This is expected to lower the input costs for TV makers who have been complaining about a slump in demand.
The Finance Ministry has also scrapped customs on goods for use in the manufacturing of liquid crystal display (LCD) and diode (LED) TV panels such as film, printed board assembly (PCBA); and cell (glass board/substrate).
Reduction in Manufacturing Costs
Imported open cell panels constituted over 60-70% of the cost of manufacturing LED TV sets. This included an import duty of 5%.
Since open cells panels are not manufactured in India and companies relied on imports of these key components of LED television sets.
The withdrawal of import duty could lead to a drop in prices of TV sets between 2-4%, depending on the category.
The cost-benefit due to withdrawal of import duty is expected to be passed on to the customers in immediate to long term depending on the respective brand's inventory
Boosting Local Production
The import duty which pushed the manufacturing cost pushed some electronics makers to import television sets from neighbouring markets such as Vietnam and Thailand to avoid duties on open cell panels.
India's LED TV market is estimated at 15 million units. A substantial portion of the demand for TVs is being met through local production. But the option of sourcing from FTA countries is a threat.
The reduction in open cells duty will help in arresting this trend and aid in safeguarding the investments made in India by providing a level playing field for domestic manufacturers.
These measures by the Ministry of Finance ahead of the festive season are a good indicator for the industry.
Topics: Economics • Economy • International taxation • Tariff
Latest E-Books