Four MOUs signed between India and Egypt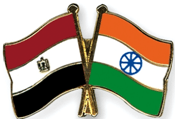 India and Egypt, the two major Civilizations to carry mutual relations to new heights

India- Egypt shared an accord over carrying their mutual relation ahead in coming times. India assured the provision of all feasible aid to Egypt in an attempt to its restructuring attempts. The key sector identified in this regard is the IT sector in which India will bestow with its counselling and mentorship to Egypt.
At the 6th Joint Commission Meeting in Cairo 4 MoUs were signed in the fields of:
Environment protection
Agricultural co-operation
Cultural exchanges
Standardisation
The External Affairs Minister of India Shri S.M. Krishna thanked the military ruler and the Supreme Commander of armed forces in Egypt, Field Marshal Mohammad Hussein Tanatawi for the support of Egypt in evacuating over 3000 Indians from eastern Libya via Egypt and guarding the key Indian investment projects in Egypt during the transition period in Egypt. The visit by Indian External Affairs Minister to Egypt is marked by warmth in the ties on the part of two major civilizations of the world.
Topics: Continents , Countries , Eastern Mediterranean , Egypt , International organizations
Advertisement