Current Affairs – January 3, 2021 [Today's News Headlines]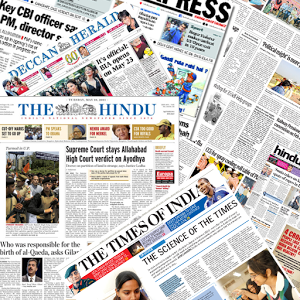 Here are Today's News Headlines by GK Today for January 3, 2021
India
Expert panel gives go ahead for COVISHIELD
On January 2, 2021, the expert panel sent COVISHIELD vaccine for approval by the Drugs Controller General of India. The committee also recommended COVAXIN for restricted use in an emergency situation subject to multiple regulatory conditions. The Subject Expert Committee operates under the central drugs standard control organisation.
ICMR cultures new covid-19 train that was first reported in UK
On January 2, 2021, the Indian Council of Medical Research announced that India has successfully cultured the new coronavirus strain that was first reported in the UK.
National Police K-9 Journal
On January 2, 2021, the home minister of India Shri Amit Shah released the National Police K-9 Journal in New Delhi. The publication is first of its kind in the country on the subject of police service K9s, police dogs, etc.
New major general led Human Rights cell
The Indian Army recently created a new Human Rights cell headed by major General of India. The cell has been created for Greater transparency and probity in the functioning of Indian Army in disturbed areas such as north east and Jammu and Kashmir. General Gautam Chauhan has taken charge as the first additional director general Human Rights at the army headquarters in New Delhi.
IIM Sambalpur
On January 2, 2021, the Prime Minister Narendra Modi laid the foundation stone of the permanent campus of IIM Sambalpur in Odisha.
Legal age of smoking
The Government of India has recently prepared a bill to increase the age of shopkeepers selling cigarettes and tobacco products from 18 years to 21 years.
Buta Singh dies
On January 2, 2021, Buta Singh Senior Congress leader died at the age of 86. He served as the Union Home minister in the Rajiv Gandhi government from 1986 to 1989. Also, he was a fourth time member of parliament from Rajasthan. He also held portfolio of Union Minister of Consumer Affairs, civil supplies and Public Distribution between 1995 and 1996. He was the chairman of National Commission for Scheduled Caste between 2007 and 2010. He is served as governor of Bihar between 2004 and 2006.
Economy and corporate
Indian Army to procure 12 patrol boats
The Indian Army has finalised procurement of 12 high performance patrol boats for surveillance of large water bodies. The boats are to be deployed in Pangong Tso Lake in Eastern Ladakh.  To procure these 12 fast Patrol boats the Indian Army has inked an agreement with the Goa Shipyard Limited.
World
Pakistan Government to buy houses of Raj Kapoor and Dilip Kumar in peshawar
On January 2, 2021, the Pakistan government approved the release of 2.35 crore rupees to purchase the ancestral houses of Bollywood actors Raj Kapoor and Dilip Kumar located in Peshawar. These houses are to be converted into Museum after procurement.
Kazakhstan abolishes death penalty
Kazakhstan recently abolished the death penalty making permanent early to freeze on capital punishment in the authoritarian Central Asian country.
Sales tax on women's sanitary products abolished in UK
On January 1, 2021, the British government abolished the tampon tax on women sanitary products .
Iran to enrich uranium up to 20%
Iran recently announced the United Nations nuclear Watchdog International atomic energy agency that it has planned to enrich uranium to 20% purity. This was the level it achieved before 2015 Accord.
Month: Current Affairs - January, 2021
Category: Today's News Headlines
Topics: Current Affairs Headlines • Current Affairs: News Headlines • Headlines • Latest News Headlines • News Headlines • Top Headlines
Latest E-Books