Cabinet approves Three Year Action Plan of Agricultural Education Division & ICAR Institutes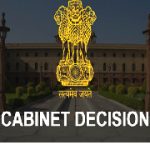 The Union Cabinet has approved continuation of Three Year Action Plan (2017-2020) of scheme for Agricultural Education Division and Indian Council of Agricultural Research (ICAR) Institutes. The plan aims at strengthening and developing higher agricultural education in India.
The scheme comprises of Strengthening and Development of Higher Agricultural Education in India and ICAR-National Academy of Agricultural Research Management (NAARM) and ICAR-Central Institute of Women in Agriculture (CIWA) including All India Coordinated Research Project on Home Science (AICRP-HS).
Key Facts
The scheme aims to generate quality human resources from institutions of higher agricultural education. It encompasses several new initiatives including, steps to attract talented students, reducing academic inbreeding and addressing faculty shortage.
The scheme takes care of mitigating faculty shortage, international ranking, promoting innovations, inspired teacher network, reducing inbreeding, academia interface, technology enabled learning, post-doctoral fellowships, agriculture education portal, scientific social responsibility etc. for quality assurance ranking of agricultural universities has been linked to financial support under scheme along with accreditation.
It will support for strengthening and modernization of infrastructure related to student and faculty amenities and capacity building of both faculty and students in cutting edge areas through niche area of excellence programme will improve teaching and encouraging holistic development of the students.
Significance
This scheme will lead to generation of competitive and confident human resource in agricultural education. It will aid in formulating gender-equitable agricultural, policies and programmes and gender-sensitive agricultural-sector responses and capacity building needs of human resources and stakeholders of entire National Agricultural Research & Education System (NARES). It will lead to enhancing of competencies and capacities of stakeholders including farmers, young scientists, students and agri-industry in NARES by ICAR-NAARM (National Academy of Agricultural Research Management).
Background
Indian Council of Agricultural Research (ICAR) undertakes planning, development, coordination and quality assurance in higher agricultural education through partnership with 75 Agricultural Universities (AUs) across country. The human resource developed by AUs has played pivotal role in transforming agricultural scenario to achieve self-sufficiency. The NAARM has played key role in enhancing capacities of individuals and institutions of NARES in agricultural research, education and technology management. The CIWA has been providing leadership role in empowering farm women as in changing agricultural scenario roles and responsibilities of women in agriculture.
Month: Current Affairs - June, 2018
Topics: Agricultural education • Agriculture Sector • Cabinet Decisions • ICAR • National • Three Year Action Plan
Advertisement