Barren Island: India's only live volcano active again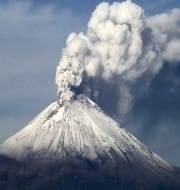 According to scientists from Goa based National Institute of Oceanography (NIO), India's only live volcano at Barren Island in the Andaman and Nicobar has become active again.
After lying dormant for 150 years, Barren Island volcano had erupted in 1991 and since then it is showing sporadic activity. Now it is erupting in small episodes of five to 10 minutes.
Key Facts
According to scientists, the active Barren island volcano is spewing smoke, ash and lava once again.
It is claimed that volcanoes is erupting the rising magma formed deep in the mantle due to the melting of the subducted Indian Ocean crust.
Scientists have sampled sediments and water and also have recovered coal-like black pyroclastic material of volcanic ejecta. These samples will help in deciphering nature of present and past volcanic activity in region.
The volcanic island is part of Andaman islands. Its northern part is barren and is uninhabited. It is also devoid of vegetation.
Month: Current Affairs - February, 2017
Latest E-Books