Page-3 of
World Current Affairs, GK & News
On 16th September 2019, the first-ever trilateral naval exercise titled 'SITMEX' involving the Republic of Singapore Navy (RSN), Royal Thailand Navy (RTN) and Indian Navy (IN) commenced at Port Blair in Andaman and Nicobar Islands. The aim of the 5-day exercise is to bolster the maritime inter-relationships amongst Singapore, Thailand and India, and contribute significantly ..
Topics: Administrative territorial entities • Andaman • Andaman and Nicobar Command • Countries • Indian Navy • Republic of Singapore Navy • Singapore • World
Bahamas gained independence from the British in 1973. It is now a parliamentary democratic country with bicameral house. It is a member of the Caribbean community, United Nations and Organization of the American states. Together both India and Bahamas have supported each other in international organizations like UN Human rights council, UN security council, UNHRC ..
Topics: Bahamian • Countries • Outline of the Bahamas • The Bahamas • World
India was the first country to establish a diplomatic mission in Republic of Congo in the year 1962. Since then India had always maintained a friendly and cordial relations with the country. In 1960 – 62 India sent its Gurkha troops to counter the rebellion in the Katanga province. Currently there are 4,500 Indian troops ..
Topics: Countries • Democratic Republic of the Congo • India • International Organizations • Member states of the United Nations • Republics • World
The diplomatic relations between India and Comoros was established in the year 1976. Comor0s became independent from French rule in 1975. The mission in Antananarivo is accredited to Comoros currently. There is no Comoros mission in India. However, the countries have close and friendly relations. They have similarities in global and regional issues. In 2013 ..
Topics: Comoros • Countries • Exim Bank • Geography of Africa • World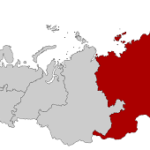 In the latest announcement from the Prime Minister Narendra Modi's trip to Russia, he has announced that India will extend a 1 billion dollar Line of Credit for the development of Russia's Far East.  PM Modi has made it clear that India will take an active role in the development of various regions of nations ..
Topics: Continents • Countries • Eastern Economic Forum • Economy of Russia • Foreign policy of the Narendra Modi government • Foreign relations of India • Narendra Modi • Russia • South Asian foreign policy of the Narendra Modi government • Vladimir Putin • World