Western China Current Affairs, GK & News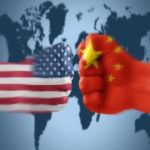 USA's lower House of the Parliament, the House of Representatives, passed the Uighur Act of 2019. It is considered as a stronger version of the bill passed earlier in September in the upper house, Senate. The act urges the US president to take a stand against the 're-education camps' established by Chinese state in western ..
Topics: Asia • Central Asia • Continents • Geography of Asia • Inner Asia • Re-education camp • Western China • Xinjiang
The Shimla Accord, or the Convention Between Great Britain, China, and Tibet, Simla as a treaty concerning the status of Tibet negotiated by representatives of the Republic of China, Tibet and the United Kingdom in Simla in 1913 and 1914. The Accord provided that Tibet would be divided into "Outer Tibet" and "Inner Tibet". Outer ..
Topics: Geography of Asia • Geography of Tibet • In Tibet • International Relations • Lhasa • McMahon Line • Simla Accord • Tawang • Tibet • Western China