Page-2 of
Voting Current Affairs, GK & News
No-confidence Motion or Motion of No-confidence is one of different types of motions in Indian Parliament. The constitutional provision behind this motion is Article 75, which says that "Council of Ministers shall be collectively responsible to the Lok Sabha" Thus, a council of ministers stays in office as long as it enjoys the confidence of ..
Topics: Atal Bihari Vajpayee • Censure • Constructive vote of no confidence • Government of India • Lok Sabha • Members of the Lok Sabha • Motion of no confidence • Motions of no confidence • Parliament of India • Prime Minister of India • Prime Minister of Spain • Rajya Sabha • Voting
The two-day Chief Electoral Officers' Conference of all States and Union Territories has been inaugurated by Chief Election Commissioner Achal Kumar Joti and Election Commissioner OP Rawat in New Delhi on August 18, 2017. The event is being organised by the Election Commission of India (ECI) to review performance as well as to explore new ..
Topics: Election Commission of India • Elections • Elections in India • Electronic voting • New Delhi • Politics • Voter-verified paper audit trail • Voting
Election Commission of India (ECI) in collaboration with defence officers in Puducherry's Nellithope Assembly Constituency successfully conducted Electronically Transmitted Postal Ballot System (ETPBS). For all the four service voters of the constituency, Postal Ballots were transmitted electronically and in return three valid postal ballots were received back. ETPBS helps an entitled service voter to cast ..
Topics: Absentee ballot • Ballot • Elections • Federal Voting Assistance Program • Group decision-making • Politics • Postal voting • Voting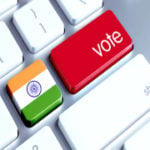 Union Government is going to allow e-Postal Ballot System and Proxy voting to Overseas electors as an alternative voting option. This information was given by Union Law Minister Sadananda Gowda in a written reply in the Rajya Sabha. Key facts The e-Postal Ballot System: It envisages providing blank ballots electronically to the Non Resident Indian ..
Month: Current Affairs - December, 2015
Topics: Current Affairs 2016 • ECI • Elections • NRI Voting • Rajya Sabha • Voting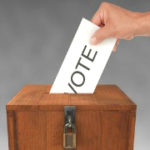 Saudi Arabia has allowed women to vote and become candidates in local elections for the first time in the history of male dominated country. In this regard, Saudi authorities allowed 979 women among the 6,917 registered candidates to campaign for 284 municipal councils as per the royal decree issued in 2011. Earlier Saudi Arabia had ..
Month: Current Affairs - November, 2015
Topics: Current Affairs 2016 • International • Saudi Arabia • Voting • Women Related Issues