Page-2 of
Vertebrates Current Affairs, GK & News
The Odisha police has launched a drive to bust an international syndicate that peddles "endangered" pangolin, one of the world's most illegally traded mammals. Through Mutual Legal Assistance Treaty (MLAT), the Odisha police will crack the international pangolin smuggling racket. MLAT is an agreement between nations to exchange information or provide legal assistance for enforcing ..
Topics: Chinese pangolin • Chordates • Indian Pangolin • Mammals • Mammals of Africa • Mammals of Asia • Mammals of Nepal • Manis • MLAT • Pangolin • Pangolins • Vertebrates
Vermin means wild mammals and birds which are harmful to crops, farm animals or which carry disease. In India, wild animals can be declared as vermin if they have become (i) dangerous to human life or property (including standing crops on any land). (ii) become disabled or diseased as to be beyond recovery. Using these ..
Topics: Animals • Environmental health • Hunting • Mammals • Mouse • Pig • Vermin • Vertebrates • Wild boar • Wild pig • Wildlife Protection Act

Deep sea ghost shark, also called as chimaeras has been filmed alive for the first time. The video of pointy-nosed blue chimaera (Hydrolagus trolli) has been released by the Monterey Bay Aquarium Research Institute in California. Ghost sharks are dead-eyed, wing-finned fish which are very rarely seen. This species is usually found near Australia and New ..
Topics: Animals • Chimaera • Chimaeridae • Egg case • Hydrolagus • Ichthyology • Organisms • Pointy-nosed blue chimaera • Shark • Vertebrates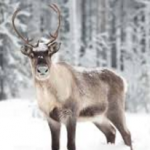 It has been found out that unusual weather patterns in Arctic Russia have resulted in the death of more than 80,000 reindeer due to starvation in the past 10 years. The death of reindeer was not found to be gradual. It is estimated that 20,000 reindeer have died in 2006 and 61,000 in 2013 due ..
Topics: Baydaratskaya Bay • Gulf of Ob • Landforms • Mammals • Permafrost • Reindeer • Vertebrates • Yamal • Yamal Peninsula • Yamalagydanskaja tundra
It African giant pouched rat which is capable of identifying positive samples of pulmonary tuberculosis. the rodent is a member of the Muroidea rodent super family that includes hamsters, gerbils, mice and the common kitchen rat. After training, the rodents can detect a distinctive odor in just 200th of a second  and are already saving ..
Topics: APOPO • Cricetomys • Gambian pouched rat • Gerbil • Giant pouched rat • Mammals • Mouse • Muroidea • Pouched rat • Rat • Rodents • Vertebrates