Trauma
The World Trauma Day (WTD) is observed every year on October 17 to highlight the increasing rate of accidents and injuries causing death and disability across the world and the need to prevent them. It emphasizes the importance of saving ..
Tags: Acute pain • Adverse childhood experiences • Injuries • Major trauma • Medical emergencies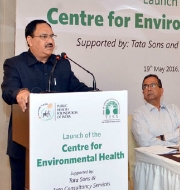 The first National Conclave on Psychological Trauma, Child Protection, and Mental Illnesses held in New Delhi. It was aimed to provide comprehensive synthesis of research, service provision and clinical practice in addressing psychological trauma and subsequent mental illnesses in Indian ..
Tags: Child protection • Mental Illnesses • Ministry of Women and Child Development • National Conclave • Public health