Transport in Somalia Current Affairs, GK & News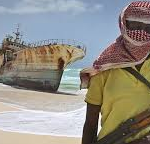 Anti-Maritime Piracy Bill was introduced in Lok Sabha to provide for strict action, including death penalty, against piracy. This comes in response to the kidnapping of 18 Indians off the coast of Nigeria a few days back. India still does not have separate law to deal with piracy. Previously, IPC related to armed robbery and ..
Topics: Crime • Decades • Gulf of Aden • In Somalia • International criminal law • Military history by country • Piracy • Transport in Somalia
India and Somalia have cordial and friendly relations. Though India opened its embassy in 1961, it was eventually closed in 1991 due to the Somali civil war. The high commission of Nairobi, Kenya is concurrently accredited to Somalia as well. Somalia is an LDC (Least Developed Country) country. And therefore qualifies India's offer of unilateral ..
Topics: Africa • Continents • Gulf of Aden • Horn of Africa • In Somalia • Piracy off the coast of Somalia • Somali Civil War • Somali Sea • Somalia • Somalis • Transport in Somalia • United Nations Operation in Somalia I
An international conference to tackle the issues pertaining to maritime piracy and the ways to counter them starts in Dubai. A high level Indian delegation is taking part in the conference to convey the Indian perspective at the rear of a large number of Indian hostages held in captivity by the Somali Pirates. According to ..
Month: Current Affairs - June, 2012
Topics: Anti-piracy measures in Somalia • Crime • Decades • Ethnic groups in Africa • Gulf of Aden • In Somalia • Piracy • Piracy in Somalia • Piracy in the Gulf of Guinea • Piracy off the coast of Somalia • Somalis • Transport in Somalia
ROSAT plunges to earth: ROSAT or Röntgensatellit was a bus-sized defunct German satellite plunged to Earth recently after languishing in a dead orbit for more than a decade. It is not sure if any of its debris has hit the planet Government approves Majithia Wage Board Recommendations: The Union Cabinet has recently approved the recommendations ..
Month: Current Affairs - December, 2011
Topics: Arvind • B53 nuclear bomb • Crime • Economy • Finance • Gulf of Aden • Indo-Tibetan Border Police • Insider trading • Piracy • Raj Rajaratnam • ROSAT • Transport in Somalia