Page-33 of
Technology Current Affairs, GK & News
Indian Universities under United Nation Programme The UNAI (United Nations Academic Impact) is an programme open to universities and other institutions of higher education and research It accomplishes activities in support of the mission and as per the instructions of the UN Objective: To encourage a culture of intellectual cooperation, serving as a point of ..
Month: Current Affairs - August, 2011
Category: Government Schemes Current Affairs
Topics: Alphabet Inc. • Android • Balod • Chhattisgarh • Companies • Digital technology • Google • Krishna Poonia • Mobile operating system • Motorola • Puniya • Technology
October 22, 2009: China's economy grows 8.9% in Q3The Chinese economy expanded at a rapid rate of 8.9 per cent in the third quarter of 2009 as compared to the year-ago period, mainly boosted by increased infrastructure investment and stimulus measures. October 22, 2009: Microsoft launched Windows 7Microsoft has launched Windows 7 operating system which ..
Month: Current Affairs - October, 2009
Topics: Boeing 777 • Current Affairs 2009 • Electronic serial number • Identification • Mobile equipment identifier • Mobile phone • Mobile technology • Mobile telecommunications • Technology • Telecommunications • Videotelephony • Wireless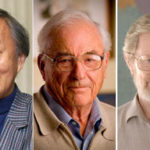 Charles Kao, Willard Boyle and George Smith, fathers of fibre optics and digital imaging, won the 2009 Nobel prize for physics . Charles K Kao: Born in Shanghai in Nov. 1933 Chinese pioneer in the use of fiber optics in telecommunications. Widely regarded as the "Father of Fiber Optic Communications". Shared 2009 Nobel Prize in ..
Month: Current Affairs - October, 2009
Topics: Bell Labs • Charge-coupled device • Engineering • Fiber-optic communication • George E. Smith • Image processing • Image sensors • Nobel laureates in Physics • Optical fiber • Science and technology in the United States • Technology • Willard Boyle