Page-2 of
Swami Vivekananda Current Affairs, GK & News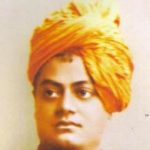 Universal Brotherhood Day is observed on 11 September every year around the world to honour the historic speech delivered by Swami Vivekananda on this day in 1893 to the delegates of the World Parliament of Religions in Chicago. World Parliament of Religions The first-ever World Parliament of Religions was held from 11 to 27 September ..
Topics: Bibliography of Swami Vivekananda • Hinduism • Indian films • Neo-Vedanta • Parliament of the World's Religions • Ramakrishna Mission • Religion • Spirituality • Swami Vivekananda • Teachings and philosophy of Swami Vivekananda • Vedanta
On 26th Feb 2019, President Ram Nath Kovind conferred the International Gandhi Peace Prize for 2015, 16, 17 and 18 at a function in Rashtrapati Bhavan. For 2018, Japan's Yohei Sasakawa was given the prize for his contribution in Leprosy Eradication in India and across the world. Ekal Abhiyan Trust was conferred the award for ..
Topics: Akshaya Patra Foundation • Awards • Gandhi Peace Prize • Gandhism • India • Organizations • Rashtrapati • Sangh Parivar • Sulabh International • Swami Vivekananda • Vivekananda Kendra
In Nepal, a month-long 'Festival of India' has started in Kathmandu to familiarize the new generation of the country about the similarities between the two countries. The festival, organised by the Indian Embassy and Swami Vivekananda Cultural Centre, is being held in Kathmandu and other major cities of Nepal from February 19th to March 21st.
Topics: Culture of Kathmandu • Foreign relations of Nepal • Geography of Asia • Kathmandu • Kathmandu District • Neo-Vedanta • Nepal • Newar • Ramakrishna Mission • religion • Spirituality • Swami Vivekananda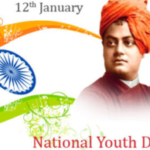 India celebrates National Youth Day on January 12 to commemorate the birth anniversary of Swami Vivekananda. The National Youth Day is celebrated on the birth anniversary of the Swami Vivekananda so that the philosophy of Swami Vivekananda and the ideals for which he lived and worked could be a great source of inspiration for the ..
Month: Current Affairs - January, 2019
Topics: Indian society • Indian Youth • January 12 • National Youth Day • Parliament of the World's Religion at Chicago • Ramakrishna Math • Ramakrishna Mission • Swami Vivekananda
The 2019 National Youth Day (NYD) has recently celebrated in India on January 12 to mark the 156th birth anniversary of social reformer, philosopher and thinker Swami Vivekananda. Born in Kolkata on 12th January 1863 as Narendra Nath Datta, he was one of India's most revered spiritual leaders. He was considered a major force in ..
Topics: Bengali Hindus • Bengali people • Hinduism • National Youth Day • Neo-Vedanta • Ramakrishna • Ramakrishna Mission • Relationship between Ramakrishna and Swami Vivekananda • religion • Spirituality • Swami Vivekananda • Teachings and philosophy of Swami Vivekananda