Page-5 of
Sun Current Affairs, GK & News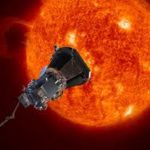 NASA is going to launch Parker Solar Probe in 2018 to explore the sun's outer atmosphere. It will be launched onboard of Delta IV Heavy launch vehicle. It will perform its scientific investigations in a hazardous region of intense heat and solar radiation. Primary goals of mission: Trace how energy and heat move through solar ..
Month: Current Affairs - January, 2018
Topics: Delta IV Heavy launch vehicle • NASA • Parker Solar Probe • Science and Technology • Sun
Alpha Centauri is a system of stars which is closest to the Solar System i.e. about 4.37 light years from Sun. It is comprised of three stars namely; Alpha Centauri A (Rigil Kentaurus) Alpha Centauri B which mostly forms the binary star Alpha Centauri AB Alpha Centauri C (Proxima Centauri) It was in 1592 when ..
Topics: Rigil Kent • Solar System • Sun • Toliman
Earth recently embraced a power solar storm in last 5 years but caused no damage. What are Solar flares? A solar flare or solar storm is a abrupt brightening observed over the Sun's surface or the solar limb, which is understood as a huge energy release of up to 6 × 1025 joules of energy ..
Month: Current Affairs - July, 2012
Topics: Astronomy • Corona • Geomagnetic storms • Light sources • Natural sciences • Physical sciences • Plasma physics • Solar flare • Solar phenomena • Solar storm • Space plasmas • Sun