Page-4 of
Sun Current Affairs, GK & News
The World Meteorological Day (WMD) is observed every year on 23rd of March to mark the establishment of World Meteorological Organization (WMO) on this day in 1950. This year, the organisation is celebrating its 69th anniversary. The 2019 theme 'The Sun, the Earth and the weather" recognizes the critical role that the Earth's nearest star ..
Topics: Academic disciplines • Applied sciences • Climate • Meteorology • Physical sciences • Planet • Sun • Weather • World Meteorological Day • World Meteorological Organization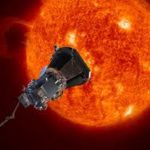 NASA's Parker Solar Probe has successfully completed flyby of Venus at distance of about 2,415 kilometres during its first gravity assist from planet. These gravity assists will help spacecraft tighten its orbit closer to Sun over course of the mission. The spacecraft in future will be carrying six Venus gravity assists over the course of ..
Month: Current Affairs - October, 2018
Topics: International • NASA • Parker Solar Probe • Science and Technology • Solar Strom • Sun • Venus flyby
On August 12, the US space agency NASA has successfully launched the Parker Solar Probe mission to send a satellite closer to the Sun than any before. The rocket carrying the Parker Solar Probe lifted off from Space Launch Complex 37 at Cape Canaveral Air Force Station, Florida in the US. It is the world's ..
Topics: Astronomy • Corona • Light sources • NASA • Parker Solar Probe • Plasma physics • Solar phenomena • Solar telescopes • Solar wind • Space plasmas • Space Science • Sun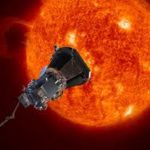 NASA's will launch humanity's first mission Parker Solar Probe (PSP) to the Sun in July 31, 2018. It is undergoing final preparations for its scheduled launch on board of NASA's Delta IV Heavy launch vehicle from Kennedy Space Centre in Florida. After its launch, the probe will orbit directly through solar atmosphere — the corona ..
Month: Current Affairs - April, 2018
Topics: NASA • Parker Solar Probe • Planetary system • Science and Technology • Space Missions • Sun
Hinode formerly known as Solar-B is an international mission to study our nearest star, the sun. The mission was launched by Japan Aerospace Exploration Agency Solar mission with United States and United Kingdom collaboration. The main aim of the mission is to explore the magnetic fields of the sun. To accomplish this, the Hinode mission includes a suite of three science ..
Topics: Astronomy • Corona • Hinode • Light sources • Physical sciences • Plasma physics • Solar flare • Solar phenomena • Space plasmas • Space Science • Sun • X-ray astronomy