Stephen Hawking
The UK's Royal Mint has recently issued a new commemorative 50 pence coin inspired by the late legendary British physicist Stephen Hawking's seminal work on black holes. The coin was designed by British engraver and printmaker Edwina Ellis. The purpose ..
Tags: Coin • Commemorative coin • England • Fifty pence • Hawking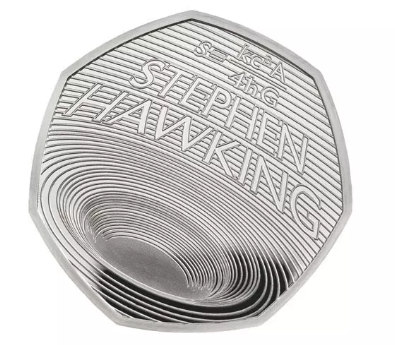 The United Kingdom has commemorated professor Stephen Hawking in a new 50p coin. The coin has references to the late physicist's pioneering work on black holes.Black Hole CoinThe commemorative coin aims to celebrate the life and "ground-breaking" achievements of Hawking, who passed away ..
Tags: Black Hole Coin • Royal Mint of UK • Stephen Hawking • UK
Month: Current Affairs - March, 2019
BLP is US$100-million global astronomical initiative launched in 2015 by Internet investor Yuri Milner and cosmologist Stephen Hawking. It has teams from around the world to find signs of intelligent life in universe. The 10-year programme aims to survey 1,000,000 ..
Tags: Cosmologists • Galactic plane • Galaxy • Milky Way • Natural sciences
Stephen Hawking (76), the legendary British theoretical physicist, has passed away in Cambridge, United Kingdom on March 14, 2018. Known for his unique way of speaking while living his life in a wheelchair, Hawking became an emblem of human determination ..
Tags: A Brief History of Time • Albert Einstein • Black hole • British films • Cosmologists
Johann Johannsson (48), the acclaimed Icelandic musician, has passed away in Berlin, Germany on February 8, 2018. He was known for giving background scores to films such as "Arrival", "Sicario" and "The Theory of Everything". He won a Golden Globe ..
Tags: Biographical film • British films • Creative works • Films • Hawking