Srebrenica massacre Current Affairs, GK & News
Republic of Bosnia and Herzegovina had declared independence from Yugoslavia on October 15. 1991. This Republic of Bosnia and Herzegovina was formally recognized by the European Community on 6 April 1992 and by the United States on 7th April 1992. The Republic of Bosnia and Herzegovina was the predecessor of today's Bosnia and Herzegovina, a ..
The judges of United Nations, have passed orders against the former Serb Bosnian leader Radovan Karadzic. His sentence of 40 years has been further increased to life in prison for committing genocide and war crimes. It was in 2016 that the 73 years old Karadzic was awarded a sentence for the 1995 July Srebrenica massacre ..
Category: Uncategorized
Topics: Bosnian genocide • Crimes against humanity • Genocides • Human rights abuses • Peter Robinson • Serbian nationalists • Serbs of Bosnia and Herzegovina • Srebrenica massacre • War crimes • Yugoslav Wars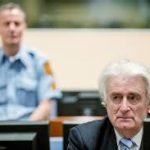 Radovan Karadzic, the final Bosnian Serb leader will soon face the judges of UN appeals for a ruling which will put an end to one of the highest profile law battles emanating from Balkan wars of 1990 which had resulted in the collapse of Yugoslavia. Karadzic was awarded a sentence of 40 years in 2016 ..
Category: Uncategorized
Topics: Bosnian genocide • Breakup of Yugoslavia • Crimes against humanity • Genocides • Keraterm camp • Serbian nationalists • Serbs of Bosnia and Herzegovina • Srebrenica massacre • War crimes • Yugoslav Wars