Spices Current Affairs, GK & News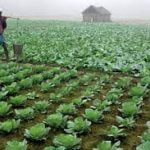 The Department of Agriculture Cooperation and Farmers Welfare (under the Ministry of Agriculture & Farmers' Welfare) has recently released the Final Estimates of 2018-19 of various Horticulture Crops. The first Advance Estimates of 2019-20 of Area and Production of various Horticulture Crops was also released. As per the released final estimates of 2018-19, the total ..
Month: Current Affairs - January, 2020
Topics: Department of Agriculture Cooperation and Farmers Welfare • Flowers • Fruits • Horticulture • Ministry of Agriculture and Farmer's Welfare • Plantation • Spices • Vegetables
Scientists from the Botanical Survey of India (BSI) have recently discovered two new species of Zingiber (commonly referred to as ginger) in the Peren district and  Dimapur district of Nagaland.  Of the two species, Zingiber dimapurense is taller in size, with leafy shoots measuring 90-120 cm high, whereas the leafy shoots of Zingiber perenense reach up ..
Topics: Botanical Survey of India • Ginger • Medicinal plants • Officinalis • Peren • Plants • Spices • Zingiber • Zingiberoideae
Kandhamal Haldi, a variety of turmeric indigenous to southern Odisha, has finally got the Geographical indication (GI) tag from Intellectual Property India. The recognition coincided with the state's Foundation Day (Utkal Divas). Odisha, on April 1 1936, was carved out as a separate state in the then British India on a linguistic identity. The golden ..
Topics: Districts of India • Haldi • Kandhamal • Kandhamal district • Khonds • Odisha • Spices • States and union territories of India • Subdivisions of India • Turmeric
Saffron has been cultivated for thousands of years to be used in medicines, perfumes, dyes and as a wonderful flavoring agent for foods and beverages. Kashmir saffron is a high value, low volume crop and the quality of saffron is among the best in the world particularly because of its rich color and flavor. A ..
Month: Current Affairs - December, 2011
Topics: Arab cuisine • Color • Crocus • Crocus sativus • Food colorings • Iranian cuisine • Orange • Pampore • Plants • Saffron • Spices • Trade and use of saffron