Socialist International Current Affairs, GK & News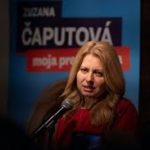 Zuzana Caputova, a Slovak environmentalist has inched closer to becoming the first female President as she has won the first round of elections thereby pointing at a huge change for a nation which has fallen to growing corruption ever since it was established in 1993. Caputova has won 40.56 per cent votes from among 13 ..
Category: Uncategorized
Topics: Continents • Countries • Murder of Ján Kuciak • Organized crime • Slovakia • Socialist International
The leader of Institutional Revolutionary Party, Enrique Peña Nieto has been elected as the new President of Mexico. He beat Party of the Democratic Revolution (PDR) candidate Andrés Manuel López Obrador. Enrique Peña Nieto, 45, was earlier the governor of the State of Mexico.  As per the Mexican Constitution: The President is the head of ..
Month: Current Affairs - July, 2012
Topics: Andrés Manuel López Obrador • Enrique Peña Nieto • Heads of state • Institutional Revolutionary Party • Party of the Democratic Revolution • Plagiarism • Politics • Politics by country • Politics of Mexico • President of Mexico • Social democratic parties • Socialist International