Siamese fighting fish
Thailand has official declared the Siamese fighting fish as its national aquatic animal to boost conservation efforts and commercial breeding in the country. Known in the West as a betta fish, the underwater brawler is popular in home aquariums for ..
Tags: Animals • Betta • Fighting fish • Fish • Fishkeeping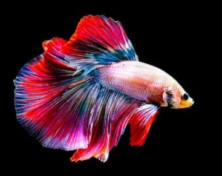 The government of Thailand has approved the proposal to name Siamese fighting fish as the National Aquatic Animal. The decision for based on the recommendation of the National Identity Committee of Thailand which promotes Thai cultural pride forwarded its endorsement ..
Tags: Cambodia • Chao Phraya • IUCN • Laos • Mekong