Serotonin Current Affairs, GK & News
The researchers at the Tata Institute of Fundamental Research (TIFR) Mumbai have found a novel function for serotonin (a chemical that signals between neurons). The recent discovery establishes that serotonin is involved in the generation of new mitochondria (the powerhouse of the cell) in neurons, increased cellular respiration and fuel (ATP) in the cell. The ..
Topics: Biology • Branches of biology • Hydroxyarenes • Mitochondrion • Neurodegeneration • Neuron • Neurotransmitters • Organ systems • Parkin • Serotonin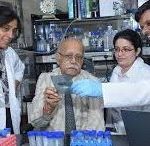 Researchers at Tata Institute of Fundamental Research (TIFR), Mumbai found new function for stress buster Serotonin. The serotonin may help treat neurological diseases. The results of this study were published in journal named 'Proceedings of National Academy of Sciences' (PNAS). About Serotonin Its chemical name is 5-hydroxytryptamine (5-HT). It is a monoamine neurotransmitter which means, ..
Month: Current Affairs - May, 2019
Category: Science & Technology Current Affairs
Topics: 5-HT • alzheimer • Mitochondria • Monoamine Neurotransmitter • Neurodegenerative Diseases • Parkinson's. • Proceedings of National Academy of Sciences • Serotonin • Tata Institute of Fundamental Research