Sarabhai Current Affairs, GK & News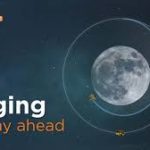 In a major success for the Indian Space Research Organization, the lander Vikram successfully detached itself the orbital module of the Chandrayaan -2 spacecraft. The lander will now make a four day journey to moon's surface. About Vikram The lander component of the Chandrayaan-2 is known as Vikram. Named in honor of Dr. Vikram Sarabhai, ..
Topics: Chandrayaan programme • Chandrayaan-2 • Indian Space Research Organisation • Lander • Lunar rovers • Outer space • Pragyan • Rover • Sarabhai • Science and technology in India • Spaceflight • Vikram Sarabhai
The Indian Space Research Organisation (ISRO) has announced its "Vikram Sarabhai Journalism Award in Space Science, Technology and Research" to recognize and reward journalists who have actively contributed towards the field of space science, applications, and research. Basically, the awards are part of the centenary year celebrations of Dr. Vikram Sarabhai, father of Indian space ..
Topics: Indian Space Research Organisation • Sarabhai • Sarabhai family • Science and technology in India • Space programme of India • Vikram Sarabhai