Rhesus macaque Current Affairs, GK & News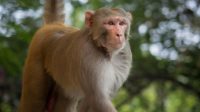 Rhesus macaque is a monkey species that is found across India. They have the widest geographic range among non-human primates as they are found in south, central and south-east Asia. They have been widely used in science as model animals and the term 'Rh factor', used with reference to blood group, is derived from their ..
The Union environment ministry has recently declared Rhesus Macaque monkeys as vermin in Himachal Pradesh for a period of one year & allow the state forest department to cull them for preventing crop depredation, conflict with humans and loss of property. Though Rhesus Macaque monkeys are protected species under Schedule II of the Wildilfe Protection ..
Topics: Animals • Macaque • Mammals • Mammals of Nepal • Monkeys • Monkeys in Chinese culture • Rhesus • Rhesus macaque • Vermin • Vertebrates