Page-7 of
Republics Current Affairs, GK & News
As many as 64 cities from 44 countries have been designated as UNESCO Creative Cities by its Director General Irina Bokova. In it, Chennai has been included in the UNESCO Creative Cities Network for its rich musical tradition. Some of the other cities included along with Chennai are Alba (Italy), Almaty (Kazakhstan), Auckland (New Zealand), ..
Topics: Chennai • Countries • Creative Cities Network • Creativity • International Organizations • Irina Bokova • Jaipur • Member states of the United Nations • Organizations • Republics • Smart cities in India • UNESCO
The Nordic-Baltic embassies will host the first-ever Nordic-Baltic Youth Film Festival in collaboration with the India Habitat Centre in New Delhi from November 13-18, 2017. The festival will offer a diverse mix of some of the most celebrated and Oscar nominated movies from the Nordic-Baltic region. This platform offers a great opportunity for Nordic-Baltic countries ..
Topics: Baltic region • Baltic states • Continents • Europe • Geography of Europe • Latvia • Member states of NATO • Member states of the Council of Europe • Member states of the European Union • Member states of the United Nations • Nordic-Baltic Eight • Republics
The Maharashtra government has recently signed MoU with South Korea in Seoul for increased co-operation in infrastructure projects like development of smart cities, roads, airports and metros. The MoU is to help with implementation strategy, legal systems, policies, technologies and information in infrastructure development. Chief Minister Devendra Fadnavis is on a three-day tour to South ..
Topics: Devendra Fadnavis • East Asia • Economic development • Fadnavis • Forms of government • Internet of things • Member states of the United Nations • North Korea • Republics • Smart city • Sustainable urban planning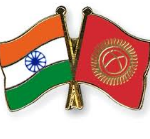 India and Kyrgyzstan have signed six Memoranda of Understanding (MoU) after delegation level talks between President of Kyrgyzstan Almazbek Sharshenovich Atambayev and Prime Minister Narendra Modi in the areas of tourism, agriculture and food industry, youth development and broadcasting and exchange of audio-visual programmes. The support provided by the Kyrgyz Republic to the Kyrgyz-India Mountain ..
Topics: Almazbek Atambayev • Countries • Foreign relations of Kyrgyzstan • Geography of Asia • Kyrgyzstan • Republics
During the visit President of the Republic of Burundi, India and Burundi signed 3 major agreements, which are as follows: (i) Exchange Programme for Cooperation in the field of Education (ii) MoU on Cooperation in the field of Rural Development (iii) MoU on Cooperation in the field of Health and Medicine.  In addition to this ..
Month: Current Affairs - September, 2012
Topics: Africa • Burundi • Countries • Geography of Africa • Memorandum of understanding • Republics • September 2012