Page-3 of
Refugee Current Affairs, GK & News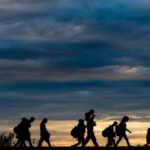 Refugees are the people who have been forced to leave their country in order to escape war, persecution, or natural disaster. The tough stance of the government against Rohingya refugees who are referred as world's most persecuted minorities is put into question in the Supreme Court. Basic Tenets of Indian Refugee Policy The successive governments ..
Topics: Aftermath of war • Demography • Forced migration • Indian people • Refugee • Refugee crisis • Refugees • Right of asylum • Shashi Tharoor • Writers
IOM is an intergovernmental organization in the field of migration and works closely with governmental, inter-governmental and non-governmental entities to promote humane and orderly migration for the benefit of all. It has a worldwide presence with 100 offices throughout the world. Its headquarters is in Geneva, Switzerland. The organization was established in 1951 in the ..
Topics: Demography • International Organization for Migration • IOM • Marco Tulio Boasso • Organizations • Refugee
The Convention Relating to the Status of Refugees, also known as the 1951 Refugee Convention, is a United Nations multilateral treaty that defines who is a refugee, and sets out the rights of individuals who are granted asylum and the responsibilities of nations that grant asylum. The Convention also sets out which people do not qualify as refugees, such as war criminals. The Convention builds ..
Topics: Asylum seeker • Convention Relating to the Status of Refugees • Forced migration • Human rights instruments • International law • Law by country • Politics by country • Refugee • Refugees • Right of asylum
Mohamad Al Jounde (16) from Syria has been honoured with the International Children's Peace Prize 2017 for his efforts to ensure the rights of Syrian refugee children. Al Jounde, a refugee of the Syrian civil war, set up a school together with his family in a Lebanese refugee camp that currently provides 200 children with ..
Topics: Awards • Demography • Human rights • International Children's Peace Prize • Khpal Kor Foundation • KidsRights Foundation • Refugee • Refugee children • Refugees of the Syrian Civil War
The United States has pulled out from the UN Global Compact on Migration as it does not meet the policies and principles of the Donald Trump administration. The US has been a part of the non-binding New York Declaration for Refugees and Migrants since it was unanimously adopted by the UN General Assembly in 2016. ..
Topics: Aftermath of war • Demography • Forced migration • Global Compact • Global Compact for Migration • Human migration • Presidency of Donald Trump • Refugee • Right of asylum • United Nations • Xenophobia