Red dwarf Current Affairs, GK & News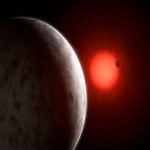 The Astronomers at the University of Gottingen detected a system of super earth planets. The planets are orbiting a near by star Gliese 887. It is the brightest red dwarf star in the sky. About the discovery The Super earth discovered is close to the habitable zone of the red dwarf. Based on its proximity ..
Month: Current Affairs - June, 2020
Category: Science & Technology Current Affairs
Topics: Outer space • Planet • Red dwarf • space • Sun • Super-Earth
By using Hubble Space Telescope, the scientists of NASA have found that violent flares from the Young Red Dwarf Stars may make planets orbiting it uninhabitable by affecting their atmospheres. Hubble is observing such stars through a large programme called HAZMAT — Habitable Zones and M dwarf Activity across Time. The purpose of the HAZMAT ..
Topics: Astrobiology • Astronomy • Circumstellar habitable zone • Exoplanetology • Habitability of red dwarf systems • Planet • Planetary habitability • Red dwarf • Space Science • Star types • Stellar astronomy • Stellar classification
Recently, the planetary scientists have discovered the closest young star to Earth. The star, named AP Columbae, is the closest so-called "pre mainsequence" star. It is located in the constellation of Columba, which has been studied for the last 15 years, but was recently discovered to be very young and close to earth. AP Columbae ..
Month: Current Affairs - November, 2011
Topics: AP Columbae • Astronomy • Columba • Nu Columbae • Physical sciences • Pi Columbae • Red dwarf • Stars