Page-3 of
Ranchi Current Affairs, GK & News
Freedom fighter and lawyer Gaur Kishore Ganguli (96) has passed away in his native village in Purulia in West Bengal. Born on October 21, 1923 in Purulia in West Bengal Ganguli was influenced by his father Sasodhar Ganguli, a freedom fighter. He joined the Quit India movement in 1942 when he was 19 years old ..
Topics: Dhanbad district • Ganguly • Hazaribagh • India • Ranchi • States and union territories of India • Subdivisions of India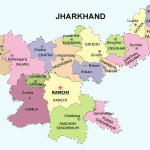 On November 15th, Jharkhand celebrated the birth anniversary of freedom fighter Birsa Munda and 17th state formation day. Jharkhand was carved out of Bihar on November 15, 2000 by the Atal Bihari Vajpayee led NDA government. About Birsa Munda The name of Birsa Munda (1875-1900) is cherished in India as one of the great freedom ..
Topics: Adivasi • Aranyer Adhikar • Birsa Institute of Technology Sindri • Birsa Munda • Birsa Munda Football Stadium • Ethnic groups in India • Ethnic groups in South Asia • India • Jharkhand • Munda people • Ranchi • States and union territories of India