Puja Current Affairs, GK & News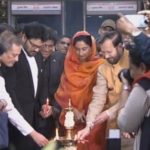 On 15 Nov, Information and Broadcasting minister Prakash Javadekar inaugurated the new state-of –the-art Auditorium of All India Radio,  Rang Bhavan in New Delhi. Digital Version of Gurbani and Shabad Kirtan from Prasar Bharti's archives was also launched on the same day. To mark the 550th Prakash Parv of Guru Nanak Dev Ji, 'Bani Utsav' ..
Topics: Asa • Human behavior • Indian folk music • Indian music • Kirtan • Music of Bengal • Puja • Ragas in the Guru Granth Sahib • religion • Shabad • Sikh music
On 11th July 2019, the centuries-old annual Kharchi Puja festival has started with great pomp & show at Puran Agartala in Tripura. The word 'Kharchi' is derived from the word Khya which means earth. Kharchi Puja is basically done to worship the earth. Originally a Hindu tribals' festivity, it is now observed by all communities ..
Topics: Agartala • Deities • Durga • Durga Puja • Hindu goddesses • Kharchi • Kharchi puja • Puja • Saraswati • Shaktism • Shiva • Tourism in North East India