Prime Minister of Canada Current Affairs, GK & News
Prime Minister Jutin Trudeau has announced byelection in British Columbia to fill a vacated seat. The MP who vacated his seat is to run a seperate party. The Canadian Electoral system is based on PArliamentary syhstem of Government. The Parliament consists of Sovereign (represented by Governor General), upper house (the senate) and the lower house ..
Topics: Canadian electoral system • Government • Government of Canada • Legislatures • Parliament of Grenada • Parliament of Singapore • Political systems • Prime Minister of Canada • Senate of Barbados • Senate of Canada • Westminster system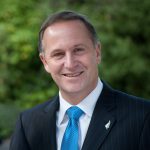 Prime Minister John Key of New Zealand has made an unexpected exit after giving a resignation after 8 years in job. Key stated that he wanted to leave the politics while he was at top of his career and did not wish to contest in his fourth general election next year. He entered politics in ..
Topics: Bill English • Government of New Zealand • John Key • Legislators • Legislatures • New Zealand farmers • New Zealand National Party • Prime Minister of Canada • Prime Ministers of New Zealand