Presidents of South Korea Current Affairs, GK & News
Kim Jong-pil (92), the founder of South Korea's spy agency, has passed away in Seoul, South Korea on June 23, 2018. The spy agency is widely-known as the "perennial No. 2 man" in modern Korean politics. He also served as prime minister twice from 1971–1975 and from 1998–2000. A retired lieutenant colonel, Kim was a ..
Topics: 5th Republic • Fourth Republic of South Korea • Gim clan of Gimhae • Kim Jong-pil • Korea • Leaders • National Intelligence Service • Park Chung-hee • Park Geun-hye • Presidents of South Korea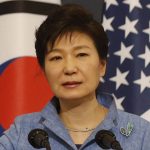 South Korean Parliament passed an impeachment motion against the President Park Guen-hye for her involvement in a corruption scandal by colluding with a close friend Choi Soon-sil. The motion was passed by 234 votes to 56. This passes all the executive powers of the President to the Prime Minister till the decision of the Constitutional ..
Topics: Accountability • Constitutional Court • Constitutional Court of Thailand • Constitutional law • Government • Government of South Korea • Impeachment • Impeachment of Park Geun-hye • Law • Political scandals in South Korea • Presidents of South Korea • Roh Moo-hyun