President of Kenya: Current Affairs, GK & News - 2020-2021
Kenya's former president Daniel Arap Moi passes away
Published: February 4, 2020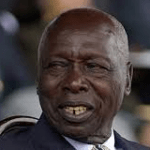 Kenya's longest-serving president, Daniel Arap Moi, who ruled the country for 24 years, passed away recently. He assumed charge as the President of the country in 1978, when the founding President Jomo Kenyatta died. He was seen as a uniting figure by many Kenyans. During his reign, he passed a constitutional amendment that made Kenya a ..
Topics: Africa • Kenya • President of Kenya
Uhuru Kenyatta wins 2017 Kenya Presidential election
Published: August 12, 2017
Uhuru Kenyatta, the current President of Kenya, has officially declared the winner of the 2017 Kenya Presidential election amid allegations of voting fraud by the opposition. According to official figures released by the country's electoral commission, Kenyatta secured 54.27% of the ballots cast, while his rival, Raila Odinga, won 44.74%.
Topics: Government of Kenya • In Kenya • Jomo Kenyatta • Kenya • Kenyan general election • Kikuyu people • March 9, 2018 Kenya Handshake • President of Kenya • Raila Doctrine • Raila Odinga • Uhuru Kenyatta
Advertisement