Prehistory Current Affairs, GK & News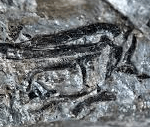 According to the recent research done by the researchers of Harvard University, a new prehistoric reptile species was discovered, which was claimed to be an ancestor to modern-day lizards and snakes. The ancient lizard is called as 'Vellbergia bartholomaei' and this discovery is expected to reveal several details about the revolution of four-legged creatures.
Topics: Evolutionary biology • Prehistory • Reptiles
What is the difference between Prehistoric and Historic periods? Prehistoric period belongs to the time before the emergence of writing, while historic period is the period after this. Prehistory refers to the period for which no written records exist. When does historic period start? Modern humans are living on this planet for at least 150,000 ..
Topics: Dispilio Tablet • Human History • Mesolithic • Neolithic • Origin of Humans • Palaeolithic • Prehistory • Stone Age