Page-2 of
Port Current Affairs, GK & News
The Jawaharlal Nehru Port Trust (JNPT) has got listed amongst the top 30 container ports globally, as per the latest Lloyds Report. Hence, JNPT has become the only Indian port to be listed amongst the world's top 30 container ports. JNPT notched up five spots, to be 28th on the list, compared to its previous ..
Topics: Jalna Dry Port • Jawaharlal Nehru Port • Maharashtra • Port • States and union territories of India
Project UNNATI is an initiative by the Ministry of Shipping. It aims to enhance the operational and financial performance of the 12 major ports with selected Indian private ports and best-in-class international ports. Under Project UNNATI 116 initiatives have been identified for various major ports.
Topics: Ministry of Shipping • Port • Sagar Mala project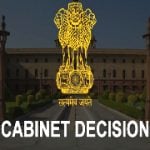 The Union Cabinet has approved to replace the Major Port Trusts Act, 1963 by the Major Port Authorities Bill, 2016.  The new bill is expected to empower the Major Ports to perform with full autonomy and greater efficiency by modernising the Institutional structure of Major Ports. The bill has also paved way for decentralised decision ..
Topics: Humans • Port • Port authorities • Public sphere